Helped by a flurry of new construction — including Apple Campus 2 — and heavyweight real estate sales, Santa Clara County's assessment roll added $30.9 billion worth of value in 2015, a 7.9 percent increase from a year ago. That brings the total assessed value of all real and "business personal property" in the county to $419 billion.
County Assessor Lawrence Stone announced the numbers on Friday, a week after property owners received their annual notice of assessed value in the mail.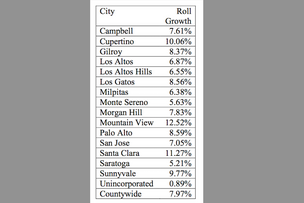 "Silicon Valley's strong economy has erased most of the losses in property values incurred during the 'Great Recession,'" Stone said in a news release. "That's great news for all property owners, as the largest single asset that most people own is their home. Santa Clara County is once again leading the region, and the state."
The increase in value is about the same as the county saw in 2014. The number is important because it's correlated with property taxes, which go to fund a wide range of public services. (For a primer on just how much businesses pay attention to this, see this Michelle Quinn column from last year.) During the Great Recession, from 2009 to 2012, the Assessor's Office reduced the assessed value for 136,000 properties, reducing the roll by $27 billion. But the majority of those properties are now back at market value, according to the news release.
Stone said that $16.6 billion of the bump was attributable to changes in ownership, when properties reassess — often at big increases. (The increases in property taxes are often passed on to commercial tenants.) About $6.9 billion of the increase was due to new construction being added to the roll. And about 85 percent of that number was commercial and industrial development.
Some of the biggest new-construction projects that beefed up the roll? Apple Campus 2, which added $700 million in construction costs for a total of $1.6 billion in assessed value; Irvine Company's Monticello Village, an 825-unit apartment complex in Santa Clara, at $466 million; Samsung's recently opened HQ on North First Street in San Jose, which was assessed at $311 million; and Moffett Gateway, a speculatively built Sunnyvale office project that's assessed at $112 million.
The analysis released by Stone's office also ranked cities based on their "roll growth." It was led by Mountain View, which saw its assessed value increase by more than 12.5 percent. Monte Sereno saw the smallest increase, at 5.63 percent.
Special Guest Writer
Nathan Donato-Weinstein
Real Estate Reporter
Silicon Valley Business Journal